If you've always dreamed of visiting the Taj Mahal or Eiffel Tower, check out these bucket lists ruined by real images: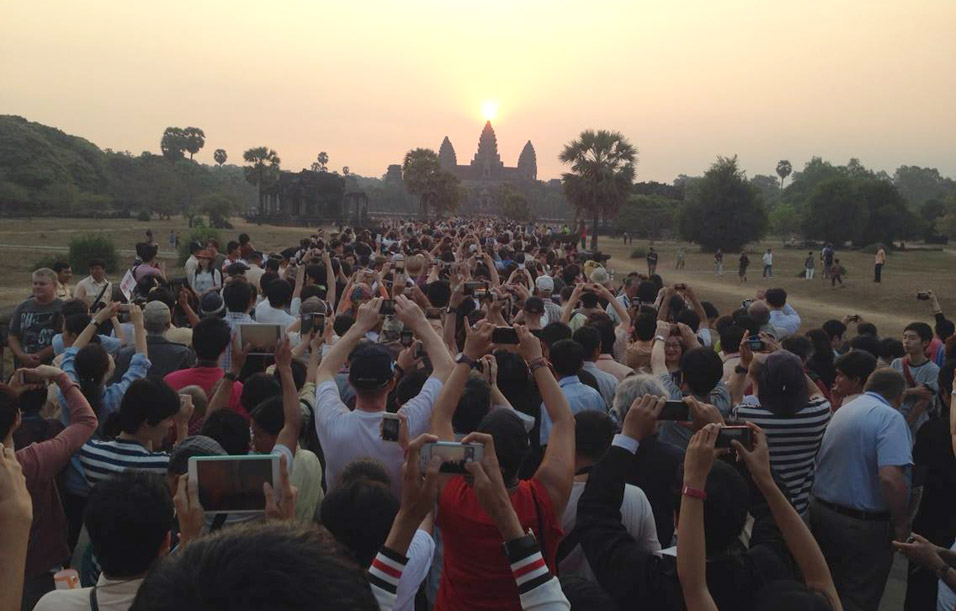 Or on second thought, don't – why kill the dream?
I enjoyed this post, though, because my own experience in top "dream" destinations is often disorienting: a walk through Alcatraz where no one could put their cameras down; a long line for mediocre-but-trendy donuts in Portland; crowds of people around a foggy Notre Dame; tourists with their selfie sticks at the Brandenburger Tor in Berlin.
I know. For many folk who can't travel, that just reeks of class privilege. I'm grateful that I've had the opportunity to work and travel abroad, and happy to try and help friends get the chance to travel as well. What's more, I'm an introvert. If you love crowds and Big Events, you would probably have loved the very experiences I found disorienting.
A New Bucket List for Travellers
Still, if you'd like a road slightly less traveled (maybe not a dirt track behind your second cousin's farm, but more… spacious exploration?), I've gathered a few other pictures to spark some new interests and dreams for you:
English Castles and Monasteries
Did you know that the UK's National Trust preserves hundreds of old castles, historic houses, and monasteries, which you wander at leisure and almost alone? In the picture below, my sister wandered through a falling-apart castle in England in November. It's a bit off-season, but we loved wandering as a family–and it gave all the more opportunity for exploration.
Stockholm, Sweden
Many travelers head for Scandinavia during the summer's long white nights, but it's equally lovely in the winter, when darkness arrives in time for afternoon tea. A dusting of snow on the streets of this many-islanded city, spiced Julmist soda in the shops, and a wander through wooden churches in the historic old town made this a memorable visit.
Stockholm also has the Vasa, a giant shipwreck that was raised by nautical archaeologists from waters surrounding the city. A great museum lets you walk all around the ship and learn more:
The Gambia River, West Africa
As a young grad student, I found the Gambia super overwhelming: the colonial white house with a housekeeper and guard, the swells of sunburnt British tourists at all the popular bars, and the scores of young men following me when I tried to go for a short walk in a "safe" neighborhood alone, offering to be my guard while trying to persuade me to marry them while calling out toubab, toubab! to any pale face.
But get a small boat onto the wide Gambia River, which cuts this "sliver of a country" in two—and you have rushing waves, a wide view, reeds along the shore, and a lovely respite from the busy city.
Croatia
In the middle of a childhood trip that involved a rained-out Paris and traffic jams in the canals of Venice, it was a relief to wander smaller European towns like Zagreb and Osijek, the old remains of a Roman wall at Split (now inhabited by families hanging out laundry), and the bombed-out and patched-over city of Dubrovnik:
Christmas in Northern France
Paris? Oh man, don't get me started on Paris. I was sixteen and fighting with my mother, and mostly remember eyeing the Toulouse-Lautrec paintings at the lovely Musee d'Orsay with suspicion, and feeling grumpy while eating pastries and walking over dirty cobblestones in the rain. (Moral of the story: why take a grumpy teenager abroad? They're terrible creatures.)
Ten years later, though, my mother and I returned to France, this time to the northern province of Alsace, where her ancestors are from. We enjoyed a wander around a living history museum and a Christmas pageant on Christmas eve. Although it was raining, families with young children pressed in, quietly reflective. Everyone held candles as they watched the procession and play, sharing carols and drinks at the end:
Maine in the Winter
Everyone loves the coast. I do too. But when I look back at my pictures, I see lots of lovely wanders along the riverside, near the brushy streams, and around the town. Inland Maine and winter Maine, to me, have just as much beauty as the swells of tourists find at Bar Harbor and Boothbay in the summer:
Mongolia
I know it's on many people's bucket lists, but it's worth it. Get out to a yurtly village, if you can, and enjoy the hospitality, the sheep's heads, the vodka and tea:
The American Southwest
I don't willingly drive long distances if I can help it, but I enjoy being a passenger. There are still hundreds of small towns, barely open, that dot the American landscape, such as this little town of Helper, Utah:
Malaysia
And on the other side of the world, the bustle of Melaka, Malaysia. I'm not sure why I enjoyed busy Malaysia so much as an introvert–perhaps because I had a lovely local friend to wander around with!
Kazakhstan
And of course, my favorite country. In this picture of the deep-cut alpine streams at Medeu, you can see my friends silhouetted against the river, lower right:
While other friends explore among the wild ibex and tulips at the Aksu-Zhabagly Nature Preserve in the Shymkent area:
And then you can take a quiet wander past the elaborate ice statues of castles, polar bears, and royal queens found in the winter in Kazakhstan's capital city…
Kyrgyzstan
…before flying south of the border to explore the Kyrgyz Republic, known across Central Asia for its beautiful mountains and gold mines:
I could go on. Kazakhstan's for sure my favorite, but I hope this has given you a few recommendations of places to someday visit or live. And if you have your own suggestions, do share them with me…