So last month, we got married! By which I mean, we eloped two days after we got engaged. For all those with questions, here are some reflections:
1. The engagement
I am very utilitarian, so I tried to propose to the gentleman over Skype. But it seems proposals should be done in person—who knew?—and should involve a story for the future.
So the day after I arrived in Maine, he proposed with my requested bride price: four white horses and a Russian jeep.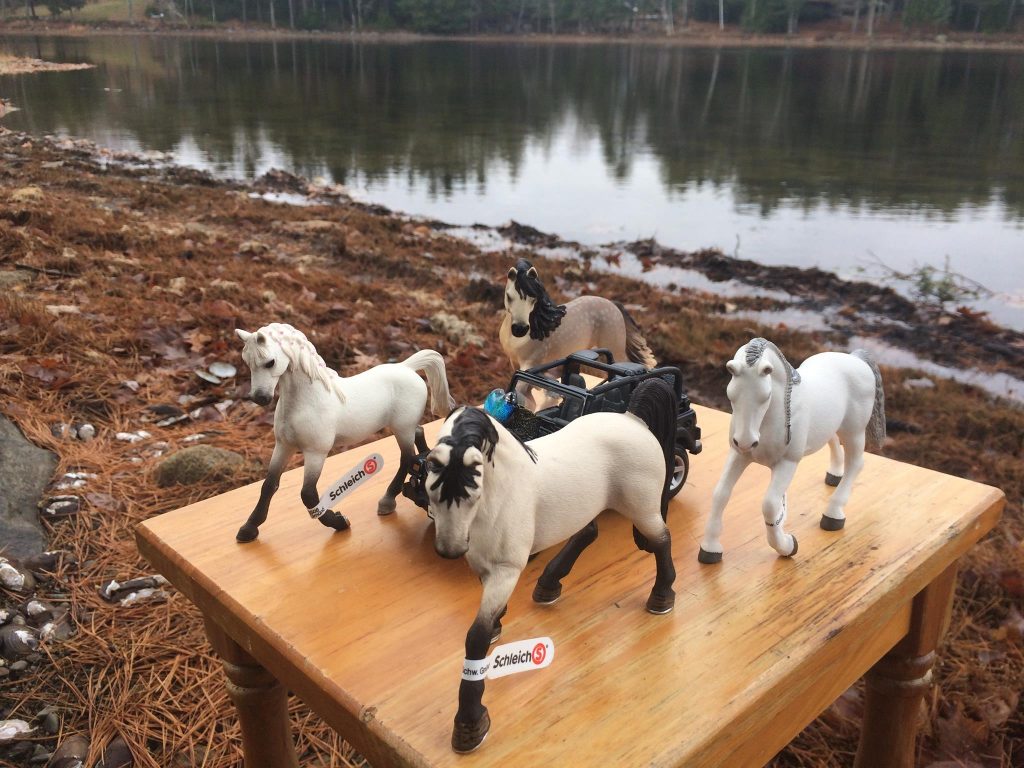 (Well, three white horses, a janky-legged buckskin, and an American jeep. But I accepted.)
We traded his parents' rings with each other for the obligatory facebook photo, as we hadn't yet gotten rings of our own. We're planners, what can I say?
We had looked up local policies on a marriage license before I came to visit, so the elopement wasn't unexpected; folks seem oddly reassured by this.
2. The survey
We called Pastor Mike, who had introduced us a year ago, and asked if he'd do a wedding in two days. (I was only in town for the week of Thanksgiving). He laughed and agreed… but wanted us to fill out on online premarital counseling survey, a sort of compatibility assessment according to Personality Testing and American Beliefs About Marriage.
So for $35, we each filled out 300 questions. As a social scientist, I was vexed that the survey didn't route to questions depending on your prior answers. For instance, even if we didn't want children, we still needed to have talked about how to discipline those absent little rascals to get a perfect compatibility score.
And who doesn't want a perfect score? A church lady then took a yellow highlighter to the printout, noting every divergence between us: the fact that we don't share hobbies was a red flag.
I had worried about the lack of shared nerd habits myself, but a quick glance at history reminded me that we could supposedly have a Delightful Companionship in Matrimony even if I spent all my time at the washboard and cradle, and he spent all his time in the mines and at the pub.
3. The families
Since our parents had all eloped, we figured we'd let them know, then throw a party later. Right? Of course right!
…Nope. My mother answered the phone in Ohio with, "We'll be on our way!"
Somewhere along the 16 hour drive, she texted: I think Nov 29 was when we got married secretly in court, but we aren't sure any more?
Two days later, she pulled up to his family's house just in time for the wedding.
I'm still torn between being profoundly grateful to my parents for showing up… and wondering how I could fail at a simple secret elopement?? 
4. The marriage license
The next day, on Tuesday, we stopped by the town office to get a license. Which license? Well, our options included: deer hunting permit, snowmobile or boat registration, wood burning permit, moose permit (by lottery), vanity plates, and marriage.
I'd sent the gentleman into town a week earlier with a long list of questions, since I was both a) fussy and b) 3000 miles away. He'd walked into the town office, scrolled through the list of questions on his phone with the clerk, and texted back: "We're good."
When we got to the town office together, a guy and two girls were hunched over in their cubicles, drinking coffee and tea. We filled out an intention of marriage promising we hadn't been married before and listing where our parents were from. We coughed up $40 for a marriage license, and $21 for two certificates…
And guys, they never checked our IDs! We could have been anyone.
Next time, I'm registering all of my single friends for a marriage license together. Easy peasy matchmaking!
5. The counseling
The morning of the wedding, we met the pastor for pancakes and premarital counseling. If he refused to marry us due to gross incompatibility, our plan was to have my dad do it using his totally legit online universal life church marriage license… or make friends with a notary.
But the conversation with the pastor went fine. In fact, the only time I got feisty was when he told us families should never lend money to family.
"Even with a contract and a defined interest rate, between financially stable people, from an ethnic group for whom this is culturally appropriate, and who are willing to take a loss?" I raised my eyebrows defiantly.
…Apparently not.
6. The preparations
Meanwhile, the gentleman's family spring into action, preparing our impromptu wedding. They cleared leaves from the yard, borrowed a neighbor's cabin for my parents, bought pizza, pickles, and beer, and made their lovely home shine. And they did all this while we wandered off to get a ring and let the gentleman's grandmother and siblings know.
Yet it didn't feel as busy as weddings often are.
"Isn't there something else to do?" we'd all look at each other and ask.
Nope. We seemed to be right on target for a pizza party with a side of wedding.
As a Southern friend texted:
"I love it! Better than spending 6 months to a year of your life stressing out over the million details of a big wedding. The weeks leading up to my wedding I told anyone who would listen that we should have just taken the money and run."
7. The wedding planning
We both wanted a small wedding focused on faith and community. I mean, the habits of American wedding season are tempting:
"The excitement has been building ever since that first Facebook post—the one with the video of him proposing to her against the industrial-chic backdrop of the Brooklyn Navy Yard while a band whose members have beards and lots of banjos "surprised" them with a serenade… 
"The invitations arrived encased in 1950s cigar tins and featured overlapping images of their tattoos on handmade paper… The wedding reception will be catered by Korean taco food trucks, and the band from the engagement is going to play an encore, only with more mandolins…" – James K.A. Smith
But it's also a lot of work. I thought of such elaborate festivities when I made the mistake of opening theKnot wedding website the night after our party. There were 160 major decisions I was supposed to have made:
pin photos of cute bridesmaid gifts on Pinterest? try twelve types of wedding cake? scout out venues? arrange for a photographer, DJ, wedding planner, videographer, and day-of coordinator? buy boutonnieres? buy something-that-is-not-rice to throw at a wedding? choose wedding colors and auras? reserve a limousine? send engagement photos, save the dates, invitations, and thank-you notes?
"So everyone in America is their own major events planner?" I asked the gentleman.
"Yes." He laughed.
8. The vows
Over breakfast, the pastor showed us his ceremony in a black binder, from Dearly Beloved to Man and Wife.
"If you want different vows or verses, just let me know before the wedding tonight," he said.
So I looked it over, and… mmm, got into another debate, just as I have with church leaders since I was five. (Moses and Abraham debated God, so we're good, right?)
Wrinkling my nose, I asked why people promise to love and cherish as long as they both live, when they don't know if they can uphold that promise. Aren't there Truer Vows out there? Doesn't the Bible say that it's better not to make a vow, than to fail to keep it?
The pastor paused. "It's just a promise we make," he said, adding that I could change it if I wanted.
It felt a little too gutsy to scratch that, so I didn't. But we adjusted a few things, adding a reading of Romans 12 instead of the Pinterest-worthy love is patient, love is kind. We both kept our last names. I promised to be a partner, not a wife.
And I quietly cut a few lines of diatribe, where the pastor talked about how people these days don't take marriage seriously anymore. History and genealogy both tell me that marriage has always been messy, even if restrictive laws meant people used other methods than divorce to get away. Pioneer men left a wife and kids for the gold mines or shipyards, gambled away the farm at the saloon, or ditched one wife to marry another; women died in childbirth, ran off, or poisoned an unbearable husband.
Commitment alone doesn't guarantee happiness and togetherness in your old age.
As I remind myself, we can walk a good path together–and let's!–but we can't control the outcomes.
9. The wedding
Two hours before the wedding, I emailed the pastor his new script. My sister brought a veil for my hair, and we joined our families in the living room: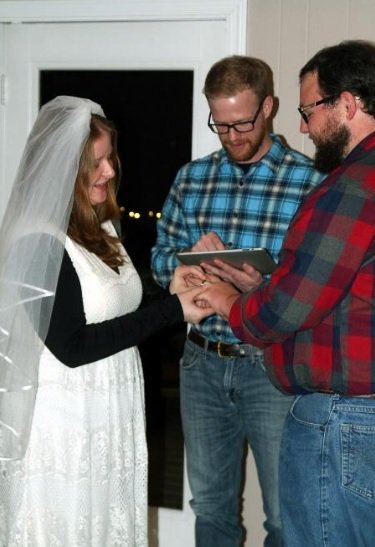 We served communion to each other, and to our families.
The pastor read his lines.
And partway through his script he paused, surprised, and added back the part I'd cut about how marriage isn't what it used to be. (Hey, I tried!)
Finally, we said vows and traded rings, and got introduced as a married couple.
10. The feedback
We called our grandparents the next day to let them know, as *cough, cough* female relatives had quickly leaked pictures on Facebook. And we had an open house a few days later. I had to defend why I wouldn't change my name, suggesting that he change his 😀
And of course, everyone had an opinion on Facebook:
"Congratulations! [emoji] [emoji]" – 500 people
"Whaaat?" – 400 people
"Best news around here!" – grandpa
And
"Babies?" – eager aunt
…that was fast!